About Our Team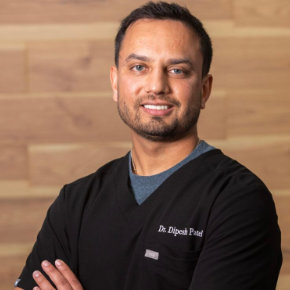 Dr. Dipesh Patel
Originally from Rome, Georgia, Dr. Dipesh Patel completed his undergraduate studies with honors at the University of Georgia before earning his doctorate from Nova Southeastern University College of Dental Medicine in 2012. To further solidify his education in dentistry, he has dedicated countless hours to completing continuing education courses to keep up with modern dentistry. Whether it's 3D cone beam technology (3D x-ray) or 3D intraoral scanning (to prevent taking impressions), Dr. Patel believes in constant education and advancement so that he can serve his patients with the latest that dentistry has to offer. He is experienced in dental emergencies, laser dentistry, root canal treatments, fixed and removable prosthodontics, surgical extractions, pediatrics, and implants. He is also Invisalign and nitrous oxide certified. Furthermore, Dr. Patel is currently undergoing rigorous training in sleep medicine because he believes in an interconnection between dentistry and medicine. Treating a person as a whole, not just the oral cavity, is a philosophy he has followed since the day he graduated. After dental school in Ft. Lauderdale, Florida, Dr. Patel could not see himself living anywhere besides Georgia. He has a deep love for the state, especially since it is home to his family, friends, and, of course, his favorite sports teams. When he's not working, he's an avid sports fan and loves to watch his teams play – Go Dawgs! Go Braves! Go Falcons! Go any team from Georgia! Don't worry if you're not a Georgia sports fan, he loves having some friendly sports banter about your favorite teams! He also loves to travel so that he can learn and immerse himself in different cultures and people. In addition, in the mornings prior to work, he likes to meditate and read to get the day started on a positive note. He has a fondness towards self-development and motivation. Some of his favorite books – "The Code of the Extraordinary Mind" by Vishan Lakhani, "The Power of Habit" by Charles Duhigg, "The 5 AM Club" by Robin Sharma and "The Secret" by Rhonda Byrne – focuses on just that. Dr. Patel has been a part of the Marietta Dental Professionals team since 2012 and he looks forward to building long-term relationships with not only the team, but also the patients at Marietta Dental Professionals.
Dr. Patel's Personal Motto
"I stand for hope and love. I believe that where there is hope, there is an opportunity. I believe that privilege is a gift and with that gift comes the opportunity to change lives for the better. I dream of a world in which all beings, regardless of their privilege or circumstances have the support they need to become the creators of their destinies and realize their fullest potential, enabling a prosperous world abundant with hope, joy, and love for all."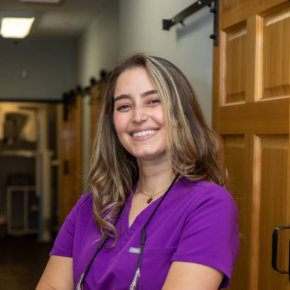 Dr. Lina Al-Chaar
Dr. Lina Al-Chaar is originally from Champaign, Illinois where she also completed her undergraduate studies from the University of Illinois, majoring in molecular and cellular biology with a minor in chemistry. Soon after, she earned her doctorate from the University of Illinois at Chicago College of Dentistry. She was honored with multiple awards during her time at the dental school, including recognition in teaching dentistry, excellence in diagnosis and treatment planning, and in advocating for health literacy.
Dr. Al-Chaar enjoys practicing all aspects of dentistry. She is first and foremost passionate in developing an honest and comfortable relationship with every patient she interacts with. She performs a diversity of procedures including cosmetic dentistry, root canals, extractions, and fixed and removable prosthetics. Her ultimate goal is to create healthier and happier smiles while making you feel confident and well informed on the treatment. Previous patients of Dr. Al-Chaar have described her as "really caring for the needs of her patients," "amazing bedside manner," "wants to provide the best care possible," and "does an amazing job at trying to make me feel comfortable."
Although enjoying her life in the Midwest, she decided to make a move down to the warmer weather of Georgia. She not only learned to love the weather but has gotten accustomed to the company of the good Georgia people. In her free time, you can find her baking, spending time with her large family, or traveling!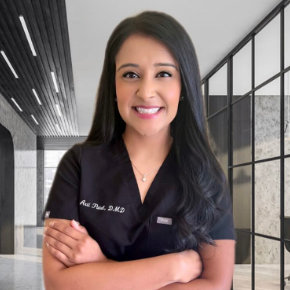 Dr. Arti Patel
Dr. Arti Patel is originally from Perry, Georgia. Dr. Arti completed her undergraduate studies at the University of Georgia with Honors majoring in Biology. She earned her doctorate from the Dental College of Georgia. Dr. Arti is a primary dental care provider for patients of all ages. She specializes in diagnosing, preventing, and treating diseases and conditions associated with the overall dental and oral health.
Dr. Arti is passionate in treating patients in all phases of dentistry. Her greatest joy is bringing a smile to her patient's face. She enjoys getting to know and spending one-on-one time with all of her patients allowing her to formulate individualized treatment plans catering to her patients needs and wants.
When Dr. Arti isn't practicing dentistry, she loves spending time with her family, being outdoors and painting. You can find her anywhere from the numerous Georgia hiking trails to the beautiful Atlanta parks. She also enjoys traveling to new cities and countries when she can.
Dr. Arti's Personal Motto
"Do to others as you would have them do to you."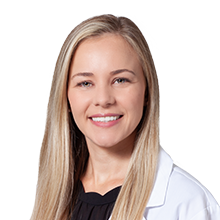 Dr. Melissa Wendling
Dr. Melissa Wendling was born and raised in South Africa. After moving to the United States, she completed her undergraduate degree in biology at the University of Wisconsin- Madison. She then continued her education and earned her Doctor of Dental Medicine degree at Roseman University of Health Sciences in Utah.
Dr. Wendling is most passionate about educating her patients and getting to know their goals for their oral health. She aims to provide treatment plans that help achieve overall oral health while making the patient feel comfortable and heard.
In her free time Dr. Wendling and her husband like to enjoy all things outdoors including camping, mountain biking, skiing, and playing beach volleyball. She loves to travel and spend time with her family and their goldendoodle, Maxwell.
Dr. Wendling loves the combination of science and art that goes into dentistry. Meeting and building relationships with her patients and educating them through patient centered care is her main goal as a dentist.
"What counts in life is not the mere fact that we have lived. It is the difference that we have made to the lives of others."- Nelson Mandela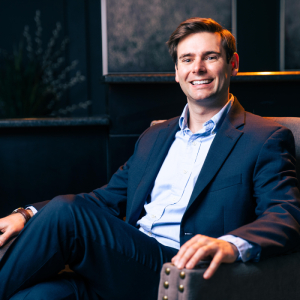 Dr. Ray Cornay
Dr. Ray Cornay is a friendly and dedicated general and cosmetic dentist at Marietta Dental Professionals. Dr. Cornay grew up in Newnan, GA, where he graduated from Newnan High School and attained the rank of Eagle Scout.
He pursued his undergraduate career at Georgia College and State University, graduating Summa Cum Laude. Cornay then earned his Doctorate of Dental Medicine from the Dental College of Georgia at Augusta University (formerly the Medical College of Georgia). He is a current member of the American Dental Association and the Georgia Dental Association. Dr. Cornay makes every effort to stay on top of current developments in dentistry. Completing intensive programs such as the Comprehensive Implant Residency, he maintains the highest levels of accreditation and takes advantage of ongoing education in multiple facets of dentistry.
While his specialty is in complex reconstruction, Dr. Cornay's scope of dental expertise includes procedures like teeth whitening, tooth extractions, root canals, restorative crown and bridge treatments, veneers, removable dentures, orthodontics, and dental implants. Furthermore, Dr. Cornay is passionate about creating a welcoming, personal experience. As such, he is Board Certified in moderate oral sedation to help patients overcome their dental anxieties.
When he's not practicing dentistry, Dr. Cornay leads an active lifestyle. Whether it's biking, climbing, or hiking with his wife Kate and their Morkie Peanut, Dr. Cornay enjoys any opportunity he can to explore the great outdoors. Otherwise, you can find him dabbling in one of his many collected hobbies (playing guitar, painting, board games) or cheering on his favorite sports teams. Go Braves! Vamos Atlanta United!