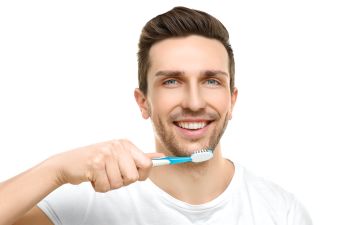 The Coronavirus pandemic has turned our nation upside down in many ways. While our daily routines are undoubtedly disrupted, most of us are finding ourselves spending more time at home and trying desperately to keep life as normal as possible. As you take strides to stay on track with your work, school and other obligations inside your home, we invite you to also be mindful of your dental health. There are habits that you can do at home that can either harm or help your smile.
If you've never been someone who practices strong oral hygiene in between routine dental visits, now is the perfect time to set new goals. Beyond diligent brushing and flossing, there are other ways to boost your dental health while you are at home. Keep in mind that a healthy mouth leads to a healthy body!
Here are five easy steps you can take to ensure your smile stays healthy during this nationwide crisis:
#1 Replace Your Toothbrush
The American Dental Association (ADA) suggests that you replace your toothbrush with a new one every 3 months or when the bristles start to fray. This ensures your toothbrush can adequately do its job and isn't adding bacteria to your mouth in the process. You'll also need to consider replacing your toothbrush after you've been sick!
#2 Drink More Water
Your body thrives on hydration, and the best way to accomplish that is by drinking plenty of water. But did you know that drinking water also benefits your mouth too? Water is a safe (non-acidic, non-sugary) liquid that rinses away food particles and helps neutralize the pH of your mouth. Staying hydrated also triggers adequate saliva production!
#3 Improve Your Brushing Technique
It's probably been awhile since you learned how to brush your teeth. Now is a great time to evaluate your technique. Are you slacking off? Have you been doing it the wrong way? Your brush should be at a 45-degree angle as you make small, concentric circles across your pearly whites and gums. Most importantly, you should be doing the job for a full two minutes.
#4 Keep (or Start) Flossing
If you are like most Americans, you are neglecting the important task of flossing each day. With the extra time on your hands, there is no excuses. Pick a flossing method you prefer (traditional floss, handheld floss holder or water flosser) and make it a daily habit. Without flossing, you're missing nearly 35% of your tooth surfaces and leaving yourself vulnerable to gum disease.
#5 Snack Smarter
The kitchen has now become extra convenient as we spend more time at home. While it may be hard to control your snacking habits, it is important that you choose snacks that are not going to harm your teeth. Stay away from sugary snacks as well as refined carbs, which can latch on to your teeth just like candy and break down into sugars that feed oral bacteria. Consider an apple instead of gummies or cheese instead of a muffin. To protect your teeth while you snack throughout the day, take frequent sips of water or chew sugarless gum.
At Marietta Dental Professionals, we want to keep our patients as healthy as possible in between dental visits. While we are reserving our office for emergency dental treatments during the Coronavirus pandemic, that doesn't mean we aren't available to answer your concerns over the phone. It also doesn't mean you can stop taking care of your teeth at home.