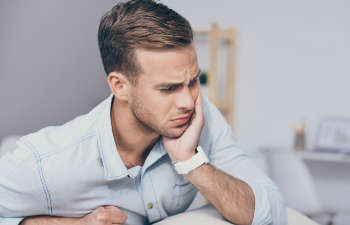 Just like other parts of our body, our teeth can suffer unexpected harm from time to time. Whether it is a broken crown or knocked out tooth, dental emergencies should be seen sooner rather than later. While some urgent dental concerns don't require same day treatment, it is never a good idea to ignore it altogether. Here are some consequences or dangers of letting a dental emergency go untreated:
Worsening Pain – If a dental injury, area of decay or infection is causing discomfort, there's a good chance the pain will worsen if you don't address it. Not only can infections spread to nearby teeth, but the more the tooth becomes compromised, the more the tooth nerves will be affected – which means more pain!
Costly Treatments – In many cases, dental emergencies can be treated more conservatively the earlier they are addressed. For example, waiting weeks or months to treat a painful cavity could mean the difference in a simple dental filling versus a full custom crown. Cracks and chips can also worsen over time and lead to more extensive repairs.
Limited Dental Function – If you have a tooth injury that isn't causing you pain, you may still be limited in how much you can use the tooth – such as for chewing. This may cause you to avoid certain foods you love or those that your body needs to stay healthy. It is never a good idea to neglect a dental emergency at the expense of compromising your eating habits.
Tooth Loss – You may think that you're saving money by trying to treat your damaged tooth at home. Unfortunately, many types of tooth damage can worsen enough to result in tooth loss if it is not treated by a dental professional. For instance, if you have an infected tooth, a root canal could save your tooth. By waiting too long or avoiding the treatment, you may end up needing to have the tooth extracted. Since missing teeth need to be replaced, you will then be faced with the heftier bill of dental implants or other restorations. Even a neglected cracked tooth can eventually die, especially if the roots are damaged and you notice the tooth color starting to change.
At Marietta Dental Professionals, we proudly serve the Marietta community with emergency dental care. We treat the entire family in a comfortable, state-of-the-art office environment. Our goal is to get you out of pain and restore your smile to optimal health and appearance. Our office provides same-day appointments, teledentistry and flexible payment plans to ease the burden of emergency dental care.