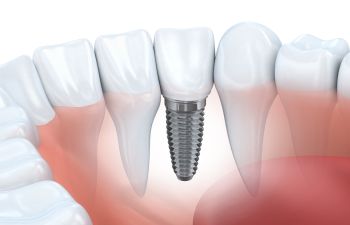 Dental implants have been around for over three decades. Since then, they continue to revolutionize dentistry by providing a superior treatment option for replacing missing teeth. Dental implants carry a remarkable success rate of over 95%. However, they are not completely foolproof. Although quite rare, if a dental implant is going to fail, it typically does so in the first few months after it is placed.
What are the most common reasons why dental implants fail? Gum disease, excessive stress on the implant and certain health and lifestyle factors can influence the success of your dental implants. To ensure you don't fall in the very small percentage of implant failures, it is best to know how you can protect yourself.
Pay attention to your overall health and lifestyle habits. The condition of your body has a large impact on the health and condition of your mouth. If you are taking certain medications or have osteoporosis or diabetes, this can pose a threat to your implant success. It doesn't mean you can't have dental implants, but you'll need to make sure your medical conditions are properly managed and that you discuss any limitations in your immune system with your dentist upfront. In addition, smoking tobacco poses a significant threat to your dental implant success.
Protect your jaw bone health. Your implants require a specific amount of bone density and height to remain secure. Gum disease and missing teeth can contribute to bone loss in this foundational area. It is important to have an implants dentist who can offer bone grafting if necessary. Going forward, you'll need to keep your mouth free of gum disease as well as avoid excessive strain on your teeth and jawbone, such as teeth grinding or jaw clenching.
Don't skip your routine dental visits. Professional cleanings are important for everyone, but if you have dental implants they are critical. This is the best way to avoid implant failure due to peri-implantitis, which is an infection and inflammation on the tissues that surround your implants. Proper oral hygiene at home can keep this type of gum disease away, but a dentist can monitor your gum health closely to ensure a condition like this doesn't progress enough to compromise your dental implants entirely.
At Marietta Dental Professionals, we want to do everything we can to ensure you have success with your dental implants. This involves educating patients on their unique risk factors for implant failures and providing comprehensive care for their replacement teeth in the future. If you are concerned about the health or success of your implant, please schedule an appointment with us promptly.