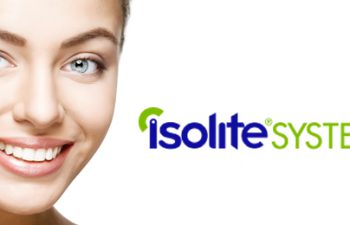 Technology has undoubtedly made life easier. In terms of dentistry, there are certain dental technologies that have taken dental care to the next level. The Isolite system is one of them. The Isolite dry-field illumination technology can be used for all types of dental procedures and benefits both patient and dentist in remarkable ways.
What Is Isolite?
The job of Isolite is to isolate certain teeth or areas of the mouth so that the dentist can work without visible or physical obstructions. In the past, this was done with cotton balls or rubber dams, which was often very uncomfortable for the patient and not always effective.
Isolite is a simple yet innovative piece of equipment. The Isolite technology uses a special soft and flexible mouthpiece and computer-controlled suctioning device. It sucks away saliva while it retracts and protects the tongue and cheek in a way that is comfortable to the patient. The mouth piece also delivers bright, shadowless LED illumination, which highlights the teeth much better than traditional dental light.
A Win-Win for Patient and Dentist
Many dental procedures require isolation, including dental fillings, dental crowns and more. Compared to past isolation methods, the Isolite System is safer, faster and more comfortable for the patient! But the patients are not the only ones benefitting from this revolutionary technology.
In short, better isolation means better dentistry. In other words, if your dentist has better visibility on the tooth that is being treated, your dentist can do a better job and produce better results. Since the Isolite technology does several jobs at once, such as seamlessly protecting the tongue and cheek from sharp objects and preventing foreign body aspirations, your dentist can focus on the dental work being done while knowing the patient is kept safe in the process.
Ready to learn more about the modern dental technology offered at Marietta Dental Professionals? Call today. We proudly use Isolite and other technologies that foster more comfortable dental visits and more successful treatments.