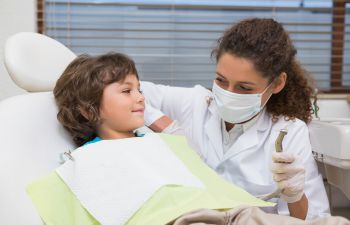 Does your child have a legitimate fear or anxiety about going to the dentist? To avoid a traumatic experience, it may be best to consider sedation dentistry. Contrary to what you may think, sedation dentistry is available and safe for both children and adults.
One of the most widely used forms of sedation dentistry used for kids is nitrous oxide, or "laughing gas." Nitrous oxide is not considered "sleep dentistry" because your child will remain awake throughout the procedure with the ability to communicate with the dental staff if needed.
Getting nitrous oxide involves wearing a small nosepiece and inhaling a colorless gas. This is a comfortable and easy form of sedation dentistry that carries the following benefits for pediatric dental patients:
#1 Your child can relax quickly
Laughing gas is fast-acting and helps patients achieve a relaxed and calm state while in the dental chair. Some patients are so relaxed that they may feel giddy or even giggle a little during the treatment, hence the name "laughing gas."
#2 Laughing gas has no lingering side effects
Laughing gas can wears off within minutes of removing the mask. Therefore, your child will not be groggy or unable to participate in school after his or her appointment. Older teens or adults may even drive themselves home after having nitrous oxide sedation.
#3 Nitrous oxide can be used for any procedure
Your child doesn't have to have a lengthy or complicated dental procedure to qualify for sedation dentistry. Some children need nitrous oxide during a routine dental cleaning.
#4 Sedation dentistry helps your child have a positive experience
While our dental office goes above and beyond to help kids feel comfortable about dental care, we understand that there are still patients who struggle to overcome their fear. Whether it is a severe gag reflex, fear of needles or physical/mental disability, we are proud to offer sedation dentistry to our pediatric patients when needed.
If you've avoided or skipped dental visits for your child due to their intense anxiety or trouble sitting still, let us help. At Marietta Dental Professionals, we can help your child relax and even enjoy going to the dentist. Ask us more about nitrous oxide sedation for kids!