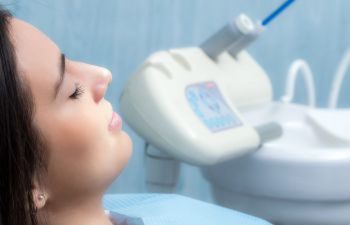 Do you have a fear of the dentist? Does it make you anxious to think about having dental work done? You are not alone. In fact, one study found that over sixty percent of the US population suffer from dental fear. This is a common reason why patients avoid the dentist and don't get the dental care they need and deserve. Fortunately, your dentist can offer a solution with sedation dentistry. Sedation dentistry bridges the gap between the anxious patient and professional dental care.
What Is Sedation Dentistry?
It is not uncommon for patients to misunderstand sedation dentistry. Unlike the sedation you may receive from a surgeon, sedation dentistry doesn't involve getting put to sleep. Instead, you can opt for oral conscious sedation (use of sedative pill before you arrive) or nitrous oxide ("laughing gas" that you breathe through a mask). In either case, mild to moderate sedation dentistry allows you to continue to communicate with your dentist during your procedure, yet you are fully relaxed and unbothered by the dental work that is being performed. With nitrous oxide (which is safe for both kids and adults), you can even drive yourself home since the side effects wear off within minutes of removing your mask.
Who Qualifies for Sedation Dentistry?
Another misconception surrounding sedation dentistry is that it is reserved for lengthy or complex dental procedures or patients with special needs. While it is certainly effective in these situations, patients can elect sedation dentistry for a simple routine dental cleaning if they choose. Whether you have a paralyzing fear of the dentist or have trouble sitting still in the dental chair, sedation dentistry can help you experience dental care in a comfortable and stress-free manner.
Sedation dentistry is often used for patients who have the following:
Fear of pain
Fear of needles
Aversion to smells of dentist (latex, chemicals)
Aversion to sound of dental drill
Severe gag reflex
Bad/traumatic dental experience as a child
Physical/mental limitations
What's keeping you from the dentist? At Marietta Dental Professionals, we want to change the way you feel about dental care. Not only have we created an office environment that feels like home, but our dentists also offer sedation dentistry to patients who need help relaxing in the dental chair. Call today to learn more!