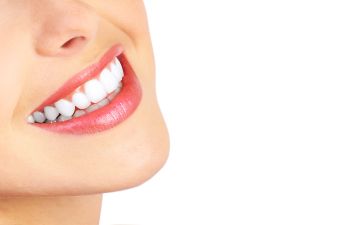 Porcelain veneers are considered one of the most innovative solutions in cosmetic dentistry. The procedure involves bonding wafer thin shells of porcelain on the front surfaces of your teeth. Smile flaws such as discoloration, chips, gaps and misalignment are instantly and permanently hidden. One of the most valued advantages of porcelain veneers, however, is their stain-resistant capability. But don't mistake this for "stain-proof"! Cosmetic veneers are still subject to slight staining or discoloration over time, so it is important to know how to protect that brilliant white as the years go by.
The porcelain material of your veneers is not porous like your natural teeth. Therefore, they won't stain like your natural teeth. Each veneer is also coated with a stain-resistant resin, which further buffers them from normal discoloration. However, if this special surface suffers damage, like when you eat hard foods or grind your teeth, the veneers will become more susceptible to staining. In addition, the margins where the veneer meets the underlying tooth may expose slight discoloration over time if you are not careful.
While you aren't likely to experience quick staining on your new veneers, it is important to follow the rules on protecting the veneer whiteness over time. In doing so, you'll be protecting your cosmetic investment and retaining a youthful, attractive smile appearance.
Maintain Regular Dental Cleanings and Proper Oral Hygiene Habits
After getting porcelain veneers you will need to maintain a proper oral care routine to keep them clean and white, just like you do with your natural teeth surfaces. This includes proper brushing and flossing along with regular dental cleanings.
Avoid or Limit Tooth Staining Culprits
If you want to make sure your porcelain veneers don't lose their vibrant white after a few years, avoid drinking beverages that can stain them, such as coffee, tea or red wine. In addition, bad habits like smoking or chewing tobacco are a sure way to sabotage your veneers in the years to come.
Choose Stain-Fighting Foods
You can also go the extra mile and incorporate foods that actually fight tooth stains. These are effective for your natural teeth as well as your cosmetic veneers, plus they will benefit your body health too. Consider crunchy produce such as apples or celery, as these work to scrub away plaque and food particles from your smile.
Want to learn more about porcelain veneers? Call Marietta Dental Professionals – we love creating and maintaining beautiful smiles!